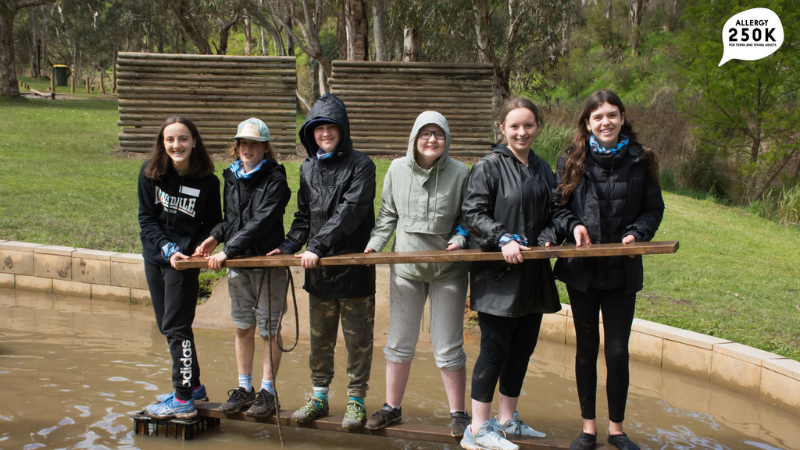 Everybody loves a summer camp! The National Allergy Council is hosting another Allergy 250K camp and this time it's being held in Perth, WA. The overnight camp is for young people aged 10-18 years, still at school, with severe allergy and at risk of anaphylaxis.
The weekend of adventure will take place approximately 40 minutes from the Perth CBD and run from Saturday 3 December to Sunday 4 December 2022. If you only want to attend on the Saturday, that's also an option. Camp is a fantastic opportunity to meet other teens living with severe allergy while experiencing the excitement and fun of camp in a safe and supportive environment.
What do we do on Allergy 250K camps you might ask? We play games, eat some very tasty food, get involved in a bunch of fun activities like archery and the giant swing, plus some old-fashioned team building (hello crate climb!). There are interactive allergy information sessions with our volunteer health professionals (allergy specialists, nurses and dietitians) who will talk to you about the everyday management of your allergies. The rest of the fun is up to you and the new friends you will meet.
All food allergies will be catered for and at least one allergy dietitian with experience in food allergy will be overseeing meal preparation and meal service during the camp. The accommodation will be dormitories (not tents).
There is no participation cost as we have received Government funding for this camp. If you live outside of Western Australia and would like to participate, please let us know, as while we cannot fund airfares, you can still participate if you can get to the camp venue.
To find out more or register your interest, email the National Allergy Strategy Manager before Friday 11 November 2022 at (sandra@nationalallergy.org.au). Places are limited, so please register early. We look forward to seeing you there!